Eco Printing
Printing green actually means a step up in quality. So, if you're interested in reducing your environmental impact, but not interested in sacrificing the quality of your print, our new Waterless press is for you. You can let your customers know you're doing your bit for the environment, too. Anything you print with it is entitled to display the Waterless Print 'Butterfly' logo. We'll send you the digital artwork on CD to incorporate into any job we print on the system.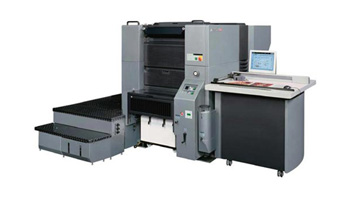 Our new Presstek 52DI is a waterless, environmentally friendly offset printer of the highest quality. No chemicals – that has to be good. Waterless so there are no ink-water problems. It's very fast, and printing at 300 lpi – dark areas are deeper and richer, highlights are brighter, cleaner and more vibrant. Images take on almost three dimensional quality – it's amazing. If you are interested in reducing your environmental impact, but don't want to sacrifice the quality of your print, well then our new waterless press is for you.
A Greener Way to Print
Our Presstek DI digital offset press eliminates many of the environmental problems associated with offset printing. Among the environmental benefits of DI printing are:
Chemistry-free on-press imaging
Automated makeready reduces paper waste
High-quality waterless printing conserves water and eliminates the VOC emissions associated with conventional offset printing
Four more reasons
On-Press chemistry-free imaging is safer and healthier, improves quality and speeds print time
Reduced waste – no chemistry to dispose and fast makeready reduces paper waste.
Outstanding quality on a wide range of stocks- waterless printing eliminates VOC emissions
Get the quality you need – when you need it, while being environmentally friendly
How does the quality of our work compare to that of other printers?
It's better. We've worked closely with our ink, paper and equipment vendors to make sure that all of our processes achieve the highest performance possible from recycled papers and green practices. We guarantee that you will see no reduction in print quality when you use eco-friendly printing… in fact, you will see an improvement!
To go with our environmentally printing press we are FSC® certified which guarantees we use materials from Responsible Forestry. Unlike others who say they use FSC material we can prove it. (Certification code CU-COC-817621)
Printpac can assist you in all forms of Business Printing and our Printing Services range from Flyers to Leaflet Printing. For more information Please Click Here Now!